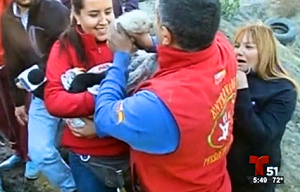 A while ago, one mother dog and her new puppies were caught up in wildfires in Valparaiso, Chile.
According to ABC 11, this smart stray dog knew she couldn't escape the fire with her pups so she dug a large hole under a metal container and hid her precious babies inside.
When firefighters found the mother, taking shelter a few feet away, she led them to her puppies. The rescuers were amazed when they looked inside and saw the babies.
One by one, a team pulled the pups out and, thankfully, the puppies and their brave mother survived. They will soon be put up for adoption!