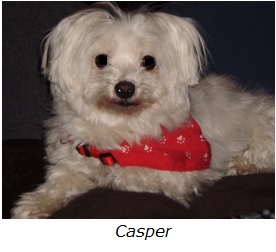 We would like to share this letter we received from Karen who has a 10 year old Maltese.
Dear Halo:
I rarely contact companies, good or bad, but I had to make an exception. My 10 year old Maltese (Casper) has been a terrible eater his entire life. I have researched and tried dozens of dog foods over the years.
He would eat, I guess out of necessity, every 3rd or 4th day. I was considering making homemade dog food at home to try to get him to eat more often, although he is healthy.
I just happened to stumble on Spots Stew after reading the labels (which I always do) at Petco. To my amazement, he ate all his food that night and every night since. I am on my third bag. I still can't believe it.
Thanks again,
Karen & Casper
Thank you Karen for sharing your story with us and we are so happy to hear Casper is doing well.