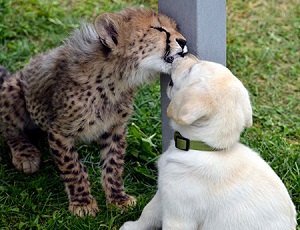 Misi, a 4-month-old cheetah, and Cash, a 3-month-old yellow lab, were best friends from the start.
This adorable duo is being raised at the Columbus Zoo in Columbus, Ohio as part of the zoo's commitment to cheetah conservation.
With only 10,000 cheetahs left in the world, the species is in "deep, deep trouble," says Suzi Rapp, vice president of animal programs at the zoo.
Rapp and her team discovered some years ago that their resident cheetahs benefitted from having canine companions. Because cheetahs are naturally shy and skittish, pairing them with dogs increased their confidence and well-being.
Click here to read the complete story.