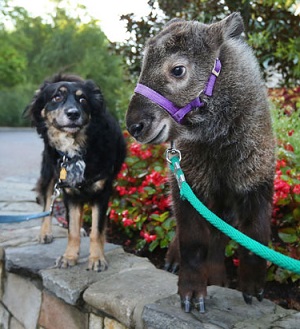 A dog who was once abandoned himself now cares for abandoned baby zoo animals.
According to a Cincinnati.com story, Blakely, a 5-year-old Australian Shepherd, works at the Cincinnati Zoo in Cincinnati, Ohio, watching over zoo babies who were orphaned or abandoned by their mothers.
The dog came to the zoo when he was seven months old; just a baby himself. The zoo team adopted Blakely from a local shelter.
Perhaps that's why he seems to have a knack for his "caretaker" role.
The abandoned or orphaned babies are brought to the zoo's nursery, where Blakely is ready to nurture them. He takes his job seriously. He must teach these babies how to play, interact and co-exist with other animals – a lesson a human simply can't teach.
Click here to read the complete story.