"Cleared up IBD"
By Amy471
This review is from Amazon: Halo, Purely for Pets Spot's Stew Natural Dry Grain-Free Cat Food, Hearty Chicken, 6-Pound Bag
"I don't write many reviews but this food really helped my cat. Fed him Iams for 10 yrs thinking it was good for him. It's actually like feeding him McDonalds. Okay once in a while but not daily. He started having blood in stool randomly for 3 yrs and we took him to vet and had expensive lab tests and x-rays.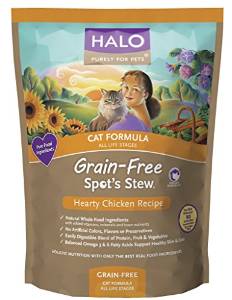 Vet thought it was IBD and gave us Prednisone. I did research and tried to change food before giving meds as a last resort. Tried Buffalo Blue, Royal Canin, Orijen, Iams Essentials, Natures Variety, Wellness, and Natures Variety raw food. The higher end foods all did the same thing. About halfway through the transition between foods, stool became soft and then diarrhea.
Almost gave up and put him on meds, then saw this food [Halo]at Petco and read about it. He transitioned to it with no problems and has been eating it now for 10 months. One month after switching to this food the blood stopped in his stool and has not returned."
Click here to read the complete review on Amazon.
Thank you Amy for your review! We are so happy that your cat is doing so well and not having any more problems.