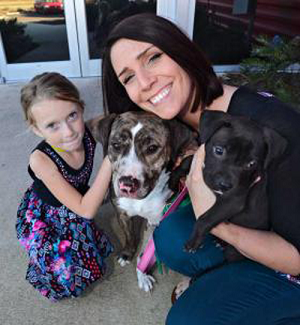 There are many heroes in animal rescue and sometimes that hero can even be another dog!
According to the Saint Augustine Record, a black lab puppy named Gunther came into the Jacksonville Animal Care and Protective Services in bad shape.
He was anemic from flea infestation and extremely weak. Shelter workers feared he wouldn't make it.
He was in desperate need of a blood transfusion. Fortunately, another young dog, a one-year-old Catahoula mix named Hula, was able to donate blood to help the pup.
Soon after, Hula was adopted by Cassi James and her 7-year-old daughter, Jaedyn. It was clear from the start that Hula was perfect for their family. "She is such a good dog, so tame," James told the St. Augustine Record. "And she's so good with Jaedyn."
Click here to read the complete story.