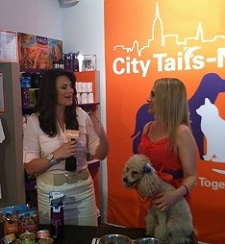 CBS Mobile Couch stopped by Halo City Tails – NYC and Alex Denis interviewed pet expert and dog trainer Nikki Moustaki founder of The Pet Postcard Project.
Nikki gave us some great advice on how to keep our dogs cool during the "dog days of summer".
Halo City Tails – NYC is our month-long "pop up shop" promotion in the heart of Manhattan (47th and Lexington).
We're proud to partner with many retailers, shelters and other animal lovers to make a difference for pets!
Watch this great video of the interview: