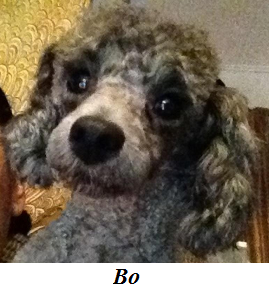 We received this letter from Jess Ram about her three year old miniature poodle named Bo and would like to share it with our blog readers.
Praise to Halo
Grain-free turkey, duck, and pheasant food for dogs is fantastic! I have a three year old miniature poodle, Bo, that I rescued. I spent a year trying several different foods that he would eat and want to eat like a "normal" dog. He always would have "bubble gut" and eat about every other day or sometimes every two days.
I finally came across Halo in a local pet store…true story; the bag attracted me because my favorite color is purple. I read the ingredients and liked what I read. I took it home and gave a sample to Bo and he ate it up without hesitation. I wasn't convinced yet because come on, who doesn't like something new brought home to them.
The transition was like witnessing a miracle; Bo ate every day! He has been on Halo for three months now and I am just blown away. No more "bubble gut!" Even my cats trys to sneak away a kibble or two. They too will soon be transitioning to Halo.
I am very pleased and impressed with Halo food and what the company stands by and for.
Thank you!
Bo and Jessi
Thank you Jessi for sharing Bo's story with us and we are so happy to hear that Bo is doing so well.