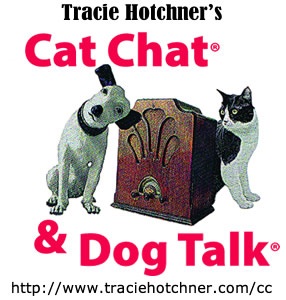 Our guest blogger Tracie Hotchner recently received this email and pictures from one of her listeners, Frank Maresco of New Windsor, NY.
Hi Tracie,
My wife and I and our 7 month old Australian Cattle dog Buster and 3 cats Simon, Bosco and Tess have benefitted tremendously since listening to your show and switching to Halo. Thank you very much! Here are some pictures of Buster and Simon hanging out; it isn't usually that peaceful.
The cat with Buster our Australian Cattle Dog is Simon who we adopted in January 2007. We just recently switched over to Halo for Buster our dog and our cats. Right now the biggest benefit I see is that all of them wipe out the food when we put it down. Before Halo Buster the dog would leave food in the bowl, not now with HALO.
We give him a mixture of dry and wet and it's gone in a minute. The cats also gravitate towards the Halo; we are currently weaning them off the other brand but they go straight for the HALO.
Thanks,
Frank Maresco
Thank you Tracie for sharing Frank's email and pictures with our blog readers.