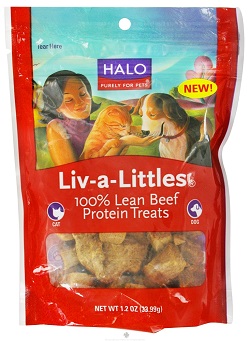 Liv-a-Littles® Freeze-Dried Lean Beef Protein Treats are now available on our website for 50% off. These treats let you reward your pet with the taste and benefits of a high-protein, low-carb snack. They can be given whole or easily crumbled and added to food as a tasty incentive at mealtime.
Remember, while these products are wonderful, they are not the same as what you can buy at the store. You'll find earlier formulas, old labels, or short-dating. Short-dating means that the product will reach its "Best if Used By" date within 1-2 months of purchase.
Of course, these usually sell out extremely quickly, so grab what you can as soon as possible.
To be the first to receive limited-time specials plus other offers like free shipping, sign up for the Halo Pets newsletter.
Shop the Halo limited-time special now.