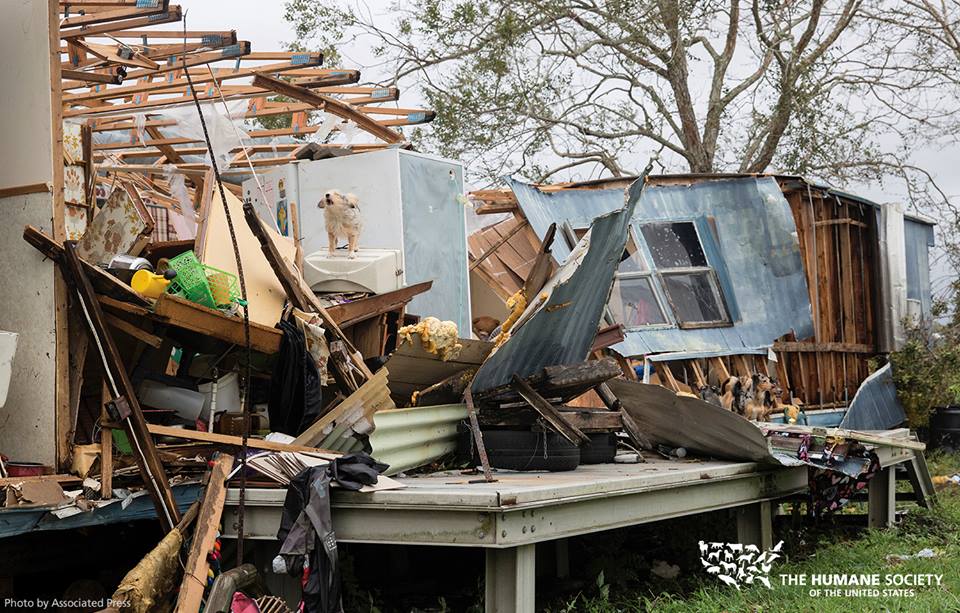 Halo is ready to donate food where it is most needed in the rescue effort, in partnership with The Humane Society of the United States Animal Rescue Team, GreaterGood.org, and Freekibble, as part of an overall 200,000 bowl donation commitment to relief. HSUS and GGO have an agreement with Corpus Christi, TX and will be on the ground working directly with local and national teams when called upon by incident officials, as well as working with local and other national rescue groups on a highly coordinated effort. If you identify a local urgent need, please also let us know.
The Humane Society of the United States (HSUS)' Animal Rescue Team is on the ground to rescue animals affected by the destructive and perilous hurricane in Southeast Texas.
The scene is desperate—homes have been destroyed. Other homes are already flooding, with people and their pets still trapped inside. The conditions are putting confused and nervous animals in life-threatening situations. And the catastrophic flooding from Harvey is only expected to worsen in the coming days.
At this moment, they are active in Dickenson and League City, and are moving animals out of San Antonio.
Thanks to your ongoing support, they are able to step up in times like this. If you would like to help, you can make a special emergency gift to HSUS' Disaster Relief Fund.
In addition, GreaterGood.org is moving quickly to provide help where it's most needed. Coordinating with their partners on the ground, they have mobilized resources and staff to provide emergency relief who are in dire need of help.
The George R. Brown Convention Center in downtown Houston is staging an emergency evacuation shelter for all who can get there safely—and their pets. So far, bedraggled and frazzled Houston residents have brought in between 70-80 dogs and 5 cats.
A key rescue shelter in Lafayette, LA was already crowded and expecting a big influx of pet rescues to come. To make sure they can do this critical intake of storm victims, GreaterGood.org, in partnership with Wings of Rescue, has already transported 88 dogs and 20 cats to waiting, welcoming shelters in San Diego, with more transport flights lined up for similar situations. These evacuation efforts are taking previously-sheltered pets to high adoption areas, clearing space for the displaced pets who (hopefully) we be re-united with their families when waters subside.
Learn more about how you can help GreaterGood.org.