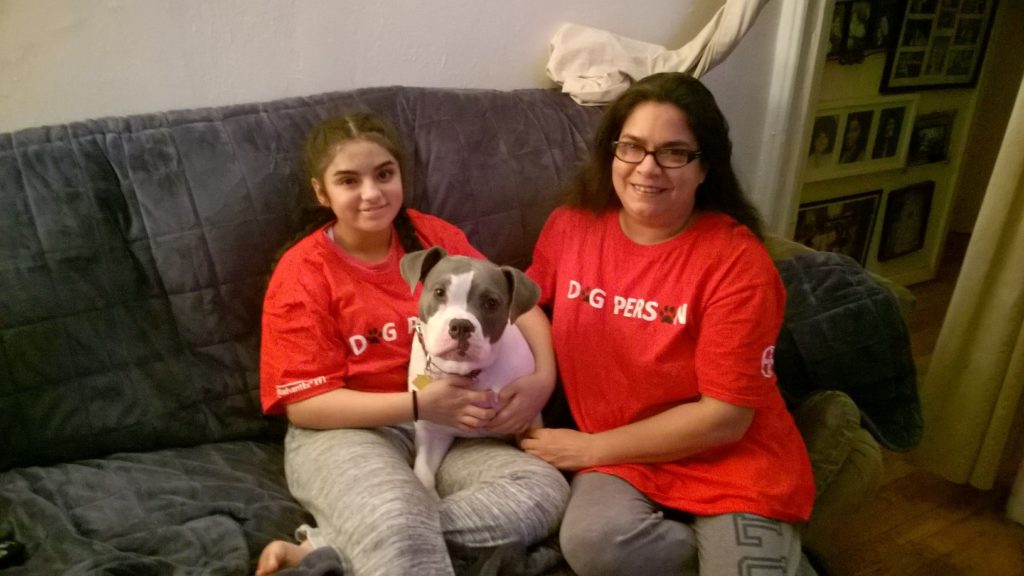 The 2nd Annual Dog Film Festival, held at Symphony Space in New York City on October 15, was a howling success in many ways.
I returned home happy, but exhausted, and then I received the fantastic news that Madonna, a 22-month-old rescued Pit Bull, found her new forever home at the Festival.
Our beneficiary partner, the Mayor's Alliance for NYC's Animals, a nonprofit group that works with more than 150 rescue groups and shelters, invited Posh Pets Rescue to bring adoptable dogs in the Petco Foundation adoption van.
The dogs greeted patrons on the sidewalk outside of the theater all day long, wagging their tails hopefully and longing to be adopted. That's where Tina and her family met Madonna, the gray and white stray who melted their hearts.
Tina emailed me to say, "My family and I had an amazing experience at the Dog Film Festival. Thank you for being such a great host. After going through the proper adoption process, Madonna has been ours since Friday!
Thank you, Tina and family for sharing this news. Moments like this make all of the hard work worth it.
As you can see in the photo, Madonna's new people got to enjoy the fun Dog Person t-shirts that Bayer and K9 Advantix II gave out to attendees at all four film programs.
And thank you Halo Pets, the Dog Film Festival Founding Sponsor that has been giving 10,000 bowls of pet food to our beneficiary partners in different locations. In New York, it was the Posh Pets hospice sanctuary that will be enjoying 2,000 lbs. Of Halo's premium pet food. The Dog Film Festival and Tina and her family affirm my faith in all of the animal welfare organizations that work together to help homeless animals together with the people whose lives they complete, guiding us all toward a better world.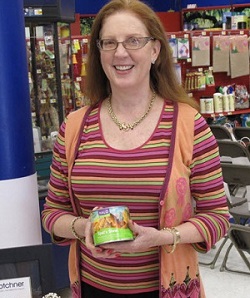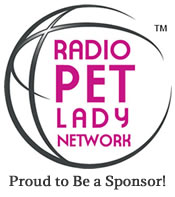 Tracie began her career as a radio personality with a live show – DOG TALK® (and Kitties, Too!) – on the local NPR station in the Hamptons, Peconic Public Broadcasting (WPPB) from Southampton, New York (the show is now also carried on the NPR station Robinhood Radio in Connecticut and the Berkshires). DOG TALK® won a Gracie® Award (the radio equivalent of an Oscar) in 2010 as the "Best entertainment and information program on local public radio" and continues weekly after more than 450 continuous shows and 9 years on the air. Tracie's live weekly call-in show CAT CHAT® was on SiriusXM satellite radio for seven years until the Martha Stewart channel was canceled in 2013.
Tracie lives in Vermont where the Radio Pet Lady Network studio is based, on 13 acres well-used by her all-girl pack – two lovely, lively Weimaraners, Maisie and Wanda, and a Collie-mix, Jazzy.