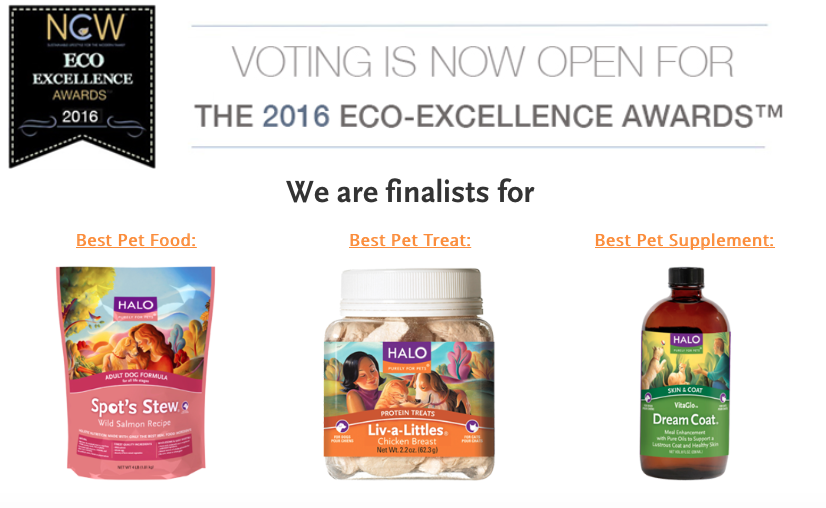 Good news! Halo was named an Eco-Excellence Award finalist in three categories this year:
Best Pet Food: Halo Spot's Stew
Best Pet Treat: Halo Liv-a-Littles
Best Pet Supplement: Halo Dream Coat
Hosted by NCW Magazine ("Sustainable Lifestyle for the Modern Family"), the Awards "recognize excellence in social and environmental sustainability for products, services, companies and web sites." Past Eco-Excellence winners include Burt's Bees, Tom's Shoes, Honest Company and Halo (2013 winner for Best Pet Food).
Finalists are chosen by judges, but winners are chosen by consumer vote.
Please help Halo receive this recognition by voting and, if you are so inclined, by sharing with your own network (email, social media, etc.)
Voting instructions:
Visit: http://naturalchildworld.com/question_categories/pets-2/ to submit votes in the pet products category
Cast your votes by clicking on each product you'd like to vote for in each sub category
Once you've selected your choices, click on "submit your vote" at the bottom of the category page.
You'll be prompted to enter a valid email address.
Once you enter the email address you'll receive a confirmation message that your email address has been accepted and your votes submitted.
This process must be repeated for each Main Category page.
Voters are allowed one vote per subcategory per one valid email address.
Thank you so much for your support!