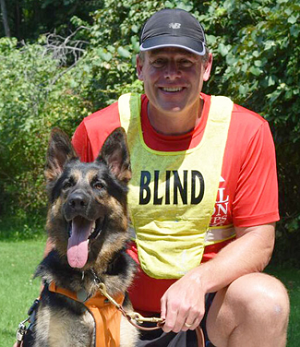 Guide dogs are known to perform incredible duties for the humans they assist but one smart dog has become the first ever guide dog officially trained to accompany his handler on marathon training runs!
According to a story in Runner's World, Klinger, a two-year-old German Shepherd, is the first dog to be specially trained through a new program by Guiding Eyes for Blind called the Running Guides. Klinger has been trained to assist veteran and triathlete, Richard Hunter.
Hunter's love for running began when he was in the marines. Although the California resident began to lose his sight in 1989 due to a disease called Retinitis Pigmentosa, he has continued to compete in marathons, triathlons and even Iron Man triathlons.
Klinger serves as Hunter's general guide dog but his special training will enable Hunter to go on runs without another human alongside.
Click here to read complete story.