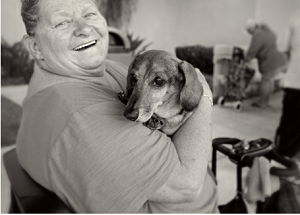 Halo, in partnership with Freekibble.com and GreaterGood.org, has donated 10,000 bowls of Halo pet food to the Helen Woodward Animal Center in San Diego, California.
In 1984, the Helen Woodward Animal Center created AniMeals, a program that participates in home delivery and other food assistance programs, and includes pet food with its deliveries to low-income seniors and other homebound residents.
In 2014 alone, AniMeals delivered over 50,000 pounds of pet food to its clients, helping to keep both at-risk residents of San Diego county and their pets, healthy and together.
Halo is particularly proud to help support the Helen Woodward Animal Center and its AniMeals program because it serves more than one group in need: low-income seniors, disabled individuals and their companion animals.
People who receive this service don't have to put their own health at risk by sharing food with their beloved pets. They can rely on AniMeals to provide the highest quality pet food and don't have to worry about giving up their four-legged companions because they can't afford to properly feed them.
As one recipient said: "You are helping our two dogs which are like our children!…These are hard times and now our beloved doggies will eat very well and be very happy!"
Halo is happy, too and extends its thanks to the Helen Woodward Animal Center and the many volunteers for the AniMeals program. Their hard work combined with Halo's pet food donations provide nutritious food for San Diego county's two and four-legged residents in need.