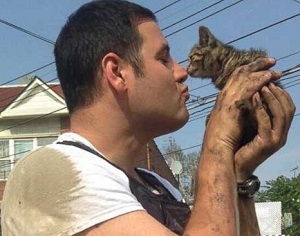 A tiny stray kitten is safe and with a new, loving forever home, thanks to the persistence and compassion of a New York City police officer.
According to the New York Police Department, Brooklyn residents reported a tiny kitten who was stuck inside the engine of a mini van.
Responding officers arrived and tried to get the cat out of the van, to no avail. Then Officer John Passarella showed up.
Officer Passarella, who is also a volunteer firefighter, told ABC News that he immediately slid underneath the car to get to the cat but the little feline kept getting away from him, retreating farther into the underbelly of the car.
Click here to read the complete story.