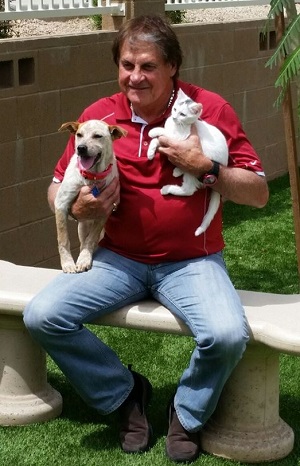 Like many great baseball teams, the Arizona Diamondbacks like to help pets in need by inviting dogs and their families to watch a game.
In preparation for the Bark at the Park in Phoenix, AZ on June 6, Tony La Russa stopped by the Arizona Animal Welfare League and SPCA (AAWL).
This baseball hall-of-famer noticed the Freekibble.com and Halo banner hanging in the lobby of the AAWL.
Imagine our pride when we learned that he was impressed by the generosity of Halo and Freekibble.com. Tony La Russa isn't just someone who speaks big about animals, his actions match his words.
Although Tony La Russa is known for his triumphs as a player and manager at the ballpark, he's also been a triumphant force for animals.
After a stray cat found her way into the middle of a California baseball game, La Russa and his wife founded the Animal Rescue Foundation (ARF) in California. Although La Russa is now the Chief Baseball Officer for the Arizona Diamondbacks, ARF is still helping pets.
We love feeding the pets of AAWL and were honored to donate goody bags to those volunteering at the Bark at the Park. Although we help pets purely because we love them, it's wonderful to hear that a baseball and animal welfare giant recognized our good work.