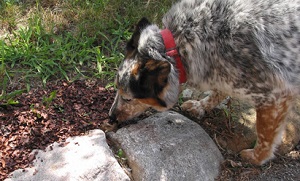 As spring and summer approach, many people begin tending to their lawns and gardens. Many will consider using cocoa bean mulch as a natural, chemical-free fertilizer.
This mulch is made from the shells of spent cocoa beans used in chocolate production. It degrades into an organic fertilizer which naturally deters slugs, snails and other pests, while giving gardens a very attractive rich color and appealing chocolate smell.
Unfortunately these same characteristics may make it appealing to dogs, who can be easily poisoned from its toxic effects. Cocoa bean shells and mulch contain the stimulants theobromine and caffeine; methylxanthines which are both toxic to dogs.
Dogs are highly sensitive to methylxanthines and low doses can cause gastrointestinal upset such as vomiting, diarrhea and abdominal pain. Higher doses can cause rapid heart rate, muscle tremors, seizures and even death.
Click here to read the complete article.