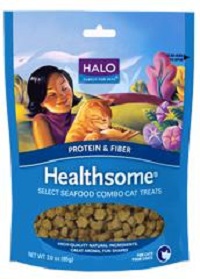 Did you know that, in addition to several varieties of great food for your pet's breakfast and dinner, Halo also makes treats? Whether for distracting a dog on a walk or teaching a cat to sit, a tasty treat is a necessary tool for the modern pet parent.
Unfortunately, it's common for tempting treats to just seem like a nutritional waste that'll just increase your pet's weight. However, once you look at Halo's natural treats you'll never think of treats as simply empty calories again.
Every Halo treat has more than just delicious flavor, they also all provide important nutrients or other benefits to your pet.
For example, Halo's Healthsome Baked Treats for Cats not only have catnip which many cats enjoy, but the treats also provide protein and taurine along with a crunchy texture that helps to clean your cat's teeth.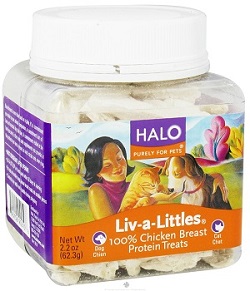 Also consider our Liv-a-Littles dehydrated treats for dogs and cats.
Available in salmon, beef, and chicken, you can give these 100% meat dehydrated bite sized pieces as individual treats or you can crumble them over your pet's normal food to add a special flavor twist.
It's like sneaking vegetables to kids in a cheese sauce – they think they're getting a treat, but you know they're also getting some healthy benefits.
So go on, treat your pet. Your pet doesn't need to know he's eating something healthy.