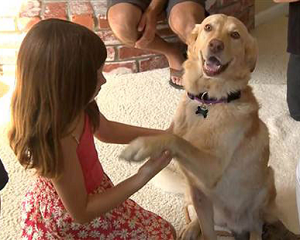 Murphy the Golden Retriever is happily basking in her family's love and attention after spending two years lost in the wilderness.
According to Today.com, nearly two years ago, Erin and Nathan Braun were on a camping trip in Tahoe National Forest in California when Murphy went missing.
The couple frantically searched for days, posting fliers, creating a Facebook page, and never giving up hope, even as the months went on.
But recently, campers who were staying only five miles from where Murphy was last seen, notified the family that Murphy had been spotted.
Click here to read the complete story.