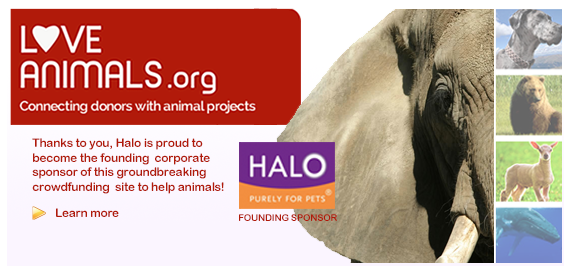 Denver, CO (August 26, 2014) – LoveAnimals.org, an innovative nonprofit crowdfunding site focused solely on supporting animal projects, today announced that Halo, Purely for Pets, Ellen DeGeneres' natural pet food company, has become the site's founding sponsor.
Crowdfunding has changed the way people support the causes and projects they care about. Now, it's easy to donate to non-profit efforts, help launch commercial inventions, back artists and more.
LoveAnimals.org has leveraged this new technology to create the largest global crowdfunding platform just for animal projects. Groups or individuals can easily create a fundraising project for a 501c3 organization that helps animals, both domestic pets and wildlife. And, people looking for worthy projects to back can search for an effort that strikes a chord with them. Donations range from $ 2 to thousands of dollars.

Click here to read the complete press release: