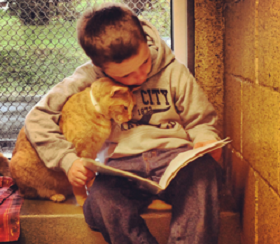 It's story time at the Animal Rescue League of Berks County in Birdsboro, Penn., where dozens of kids come to the shelter each week to read to the adoptable cats, improve their skills and provide comfort to cats awaiting their forever homes.
According to the shelter's Marketing & Communications Director, Beth Ireland, the Reading Buddies program is the brainchild of ARL's program director, Kristi Rodriquez, whose own son struggled with reading.
Rodriguez knew pets were often helpful in providing assistance to young readers so she brought Sean, a fifth grader, in to the shelter to read to the cats. He loved it so much, that he asked to come back. Six months later, Sean has shown remarkable improvement in his reading and now reads to the family's dogs at home.
The children find the cats non-threatening and supportive audience, while the cats enjoy human interaction and the rhythmic sound of the child's voice soothing.
Click here to read the complete story.