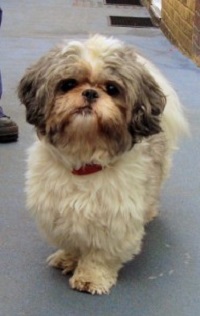 Question: I have a 6 year old male shih tzu that has had ear problems for years. I have used countless medicines and do vinegar/alcohol drops several times a week. I have always fed grain free, just because I feel it is a more natural feed for canines. However, I am wondering if you think food can be a cause for his itchy, over waxy ears?
So far, he has not had any inner ear problems, they seem to be outer ear canal. He scratches them a lot and they will get tender and sore. There is no yeast or other bacteria found by the vet? I found your blog and thought you may direct me about food and ear issues. Thank You
Answer: Thanks for your question. Red, itchy ears can be a manifestation of true food allergy. Here is an article with more information about food allergies in pets: "Food allergy in pets".
It may be worth discussing a hypoallergenic diet trial with your vet to see if you get improvement in his ear condition.
Good luck.
Dr. Donna Spector
Answers provided to pet owners by Dr. Donna Spector should be considered information and not specific advice. Answers are to be used for general information purposes only and not as a substitute for in-person evaluation or specific professional advice from your veterinarian. Communications on this site are very limited and should never be used in possible cases of emergency.
Halo, Purely for Pets will not be liable for any loss or damage caused by your reliance on any information or content contained in a blog or article post. If you have consulted your veterinarian and if you are still concerned about your pet's condition or if your pet has chronic, complicated or undiagnosed problems, Dr. Spector can offer consultations for you and your veterinarian via www.SpectorDVM.com.